I love, love vintage items and especially vintage items from the
art deco era
. I frequent estate sales and make a lot of my handcrafted items from broken pieces of vintage jewelry of leftover trims.
Art deco filigree leaf belt buckle cuff bracelet $45
Nature was a big part of art deco design and filigree was often used as a design element in art deco pieces.
Black Elastic Headband with Antique Vintage Brooch Pin $48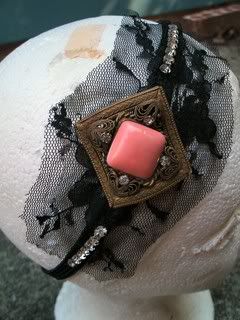 Many times, the pieces were just shiny, elaborate, decorative statement pieces.
Vintage art deco marcasite shoe clip cuff bracelet with velvet ribbon $65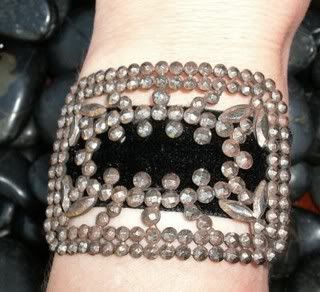 Regardless of what the pieces were, they are still beautiful to this day. I just like to reform them into something new and different. You can take a closer look at the items above by clicking on each photo. You'll then be redirected to the actual item. For other upcycled/recycled vintage jewelry pieces, please visit
Mattie Reid Chicago on Etsy
or visit
Mattie Reid Chicago online
.