I think accessories can brighten up any outfit. Why be drab when you can be cute and sassy by adding handmade accessories to garments. Handmade items are unique and can make your dull, ordinary outfit spectacular!
The purpled up in plaid bloom pin by $18 by
Sweet & Dirty's Emporium
I love the combination of textures in this purpled pin as well as the top stitching and button details. It looks cute on a top and I also think it would be cute on a coat or tote bag.
Cream Infinity Scarf / Recycled T-Shirt $20 by
Oh-Zie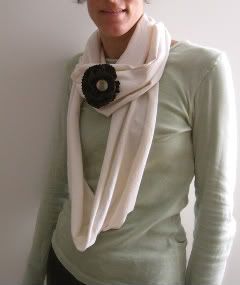 This scarf is super cute and would dress up any t-shirt or sweater. It's made from an old t-shirt and has a cute brown flower detail to dress it up a bit. Great way to recycle an old item if I don't say so myself.
Vintage wool plaid button bobbies/hair pins $6 by
Mattie Reid Chicago
These hair pins were actually made by me. I used to be a vintage button hoarder and started making things with them. I've made a lot of hair accessories with the buttons that had a matching mate. I think these buttons would look cute on anyone.
The
Etsy Recyclers Guild Team
has a lot of talented artists who make eco-friendly products. All products are recycled into something else, which is beneficial to everyone. Our team motto is basically, "We live green, we love to recycle, and that's what brought us together. Our team believes in Random Acts of Kindness, a movement to promote each other's shops and spread the word about living green." To shop handmade items on our team, you can click
here
.