Small Aqua/Turquoise Colored Medicine Vial Flip Off Lid STud Earrings $6.99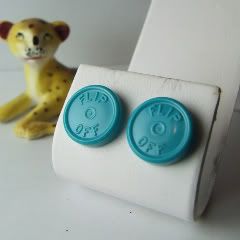 Shop name:
Beads, Buttons and Bows
Name: Melissa
Location:
Roxboro, NC
Tell me a little about yourself:

By day I am a supervisor for the Vascular Surgery Dept at UNC Hospital. By night I am a crafty jewelry designer. I am the proud mom of 2 doggies (Daisy the Pug, and Roxie the mut) and 3 kitties (Saidie, Sophie, and Boots). I have a BA degree in Visual Communications. Crafty is my outlet - it keeps me sane!
When did you first start crafting?
I have been crafting all of my life. My mom was a very artsy person. She could draw anything you ever wanted. She would also let me create. I have always used repurposed material for my crafting. I started making jewelry and accessories when I was in 9th grade (1992). I started with old puzzle pieces.
Green and White Broken China and Emerald Necklace $24.99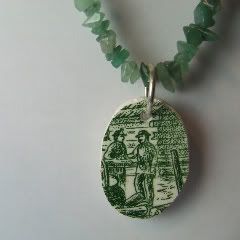 Please describe your work in detail. What's your favorite type of crafting/art?
My work in detail...I work with repurposed material, what some people may say is trash. I love to create earrings, necklaces, bracelets, and hair accessories. My favorite materials to use are paper, wire, plastic, glass, cardboard, and fabric. I also try to incorporate some type of natural stone or glass beads in my work also. I love to use turquoise.
How has your work evolved from your earlier work?
My earlier work was very tailored to what I like. I have had to learn that I need to create pieces of jewelry that is not just for me. Everyone has different tastes. I have had to learn to use colors that I may not like - orange & green, for example.
Where do you get your inspiration?
My inspiration comes from today's trends. I look through magazines and watch today shows and see what people are wearing and I try to create jewelry that will go with the clothes.
I also get my inspiration from that special items that I might deconstruct. I might see a piece of fabric and think - what can I do with that.
Unique Broken China Pendant with a hand beaded turquoise necklace $24.99
Where are your products sold (online/stores)?
My items are sold through my Etsy store, Beads, Buttons and Bows
.
What advice can you give other crafters when selling their items?
Remember that you are not your buyer. You have to think about what others may like. Pictures are worth a thousand words. Don't over-price, and Don't under-price -- do your research.
Describe yourself in three words:
Crafty, organized and happy
Is there is anything else you'd like to share with us?
Remember to think outside of the box. Use unconventional materials. Think about what you could do with that old shampoo bottle or those old pair of jeans. What about that magazine? You do not have to spend a lot of money to make beautiful jewelry and hair accessories.
You can find
Beads, Buttons and Bows
online at the following places:
Etsy shop
Blog
Facebook
and
Twitter
This post was contributed by Heather of
Texas Vintage Things
.